A Guide for the Perfect Patio Arrangement
Looking to spruce up your outdoor space? Adding a few pieces of patio furniture is a wonderful way to enjoy your yard, porch, patio or deck in a new way. The right outdoor furniture can make your home feel even bigger since it provides another place to relax or enjoy spending quality tie with family and friends.
However, choosing outdoor furniture involves some unique considerations that the process a bit different compared to buying furniture for any of your indoor spaces. Use this patio furniture buyer's guide to get the right furniture for your space, your budget and your lifestyle.
---
Step 1: Measure Your Outdoor Area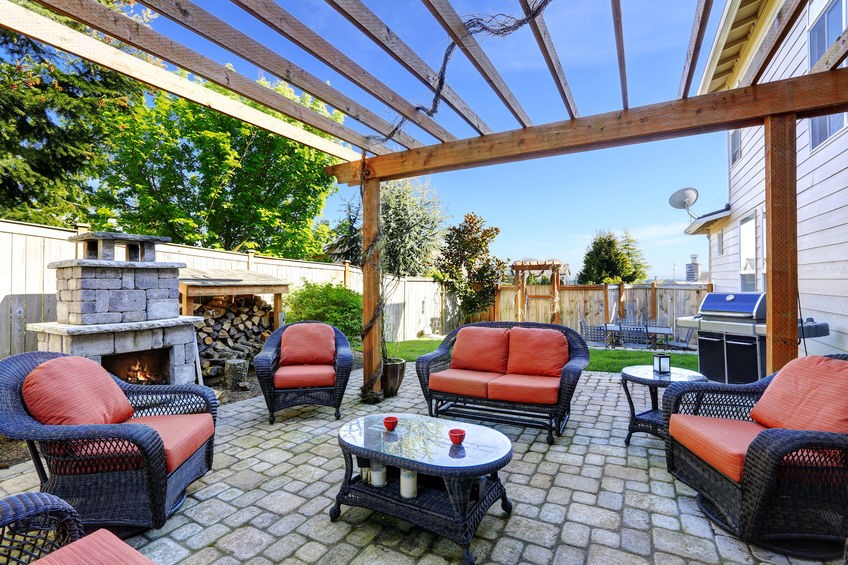 Figuring out how much space you have to work with is the best way to begin your search for the perfect patio furniture. You'll want to choose pieces that not only fit in the space but also provide a good layout for entertaining, relaxing or any other activities you plan to enjoy outside. Be sure to leave enough room so that you can walk around any pieces of furniture without having to squeeze by.
For a small space, you can consider Serenity Health & Home Décor bistro table sets, bar tables and other items that take up less room. If you have an especially large deck or patio, consider choosing pieces that can be arranged together for larger gatherings or broken up into two or more seating areas for more intimate conversation.
---
Step 2: Pick Your Materials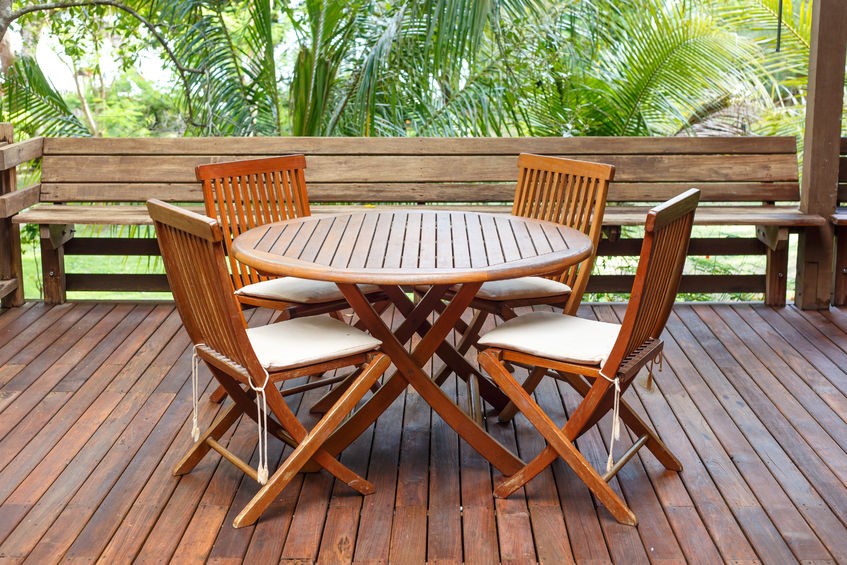 Before you decide on the style of furniture you want, it's important to figure out which furniture material the best fit for your needs. The climate where you live will be a major factor in your decision since materials can react differently under certain conditions. Is it windy where you live? Consider heavy wood or steel outdoor furniture that won't blow away. Some types of wood splinter and crack in extreme heat. Materials like wicker don't perform well in moist conditions, so you may want to choose rust-resistant plastic or cast aluminum patio furniture instead.
Here's a quick guide for some of the most common outdoor furniture materials:
Aluminum: Lightweight, rust-resistant, durable.
Steel: Heavy, strong, durable.
Iron: Very strong, very heavy, rust-resistant.
Wicker: Lightweight, sensitive to moisture.
Wood: Heavy, strong, may require more maintenance.
Plastic: Lightweight, easy to clean, durable.
If any of your patio furniture features upholstery, make sure you choose fabrics that are intended for outdoor use. Patio cushions and pillows should be resistant to moisture, stains and fading. The fill should be breathable and waterproof, such as quick-drying foam. These materials will make your patio furniture more comfortable and inviting while still being relatively low-maintenance.
---
Step 3: Choose Your Style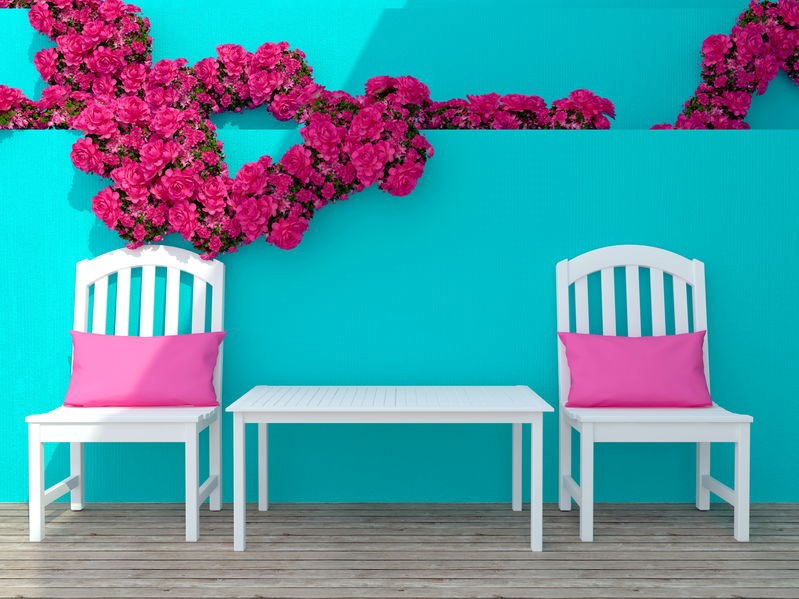 Now it's time to decide what type of look you want for your outdoor furniture. Today, you can find a wide variety of furniture styles for outdoor use. You can go with modern pieces in colorful tones or stick to classic neutrals with traditional styles.
One thing to consider is whether the style of your outdoor furniture complements your home's architectural style. You might want something super-modern and sleek, but that might not be a great fit when comparing it to your home's traditional brick exterior.
---
Step 4: Pick the Right Pieces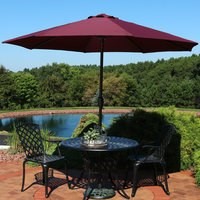 The main components for your outdoor space will be seating and tables. While you can certainly pick individual pieces, you can also choose from these popular types of outdoor furniture sets:
Bistro set: Usually comprised of a small table and two to four chairs, bistro sets are ideal for small porches, patios and balconies. You can choose from regular café tables or taller bar tables for your bistro set.
Dining set: Choose from round, square or rectangular outdoor dining tables with matching chairs to create an outdoor dining space. Extendable dining tables can offer added versatility for your space.
Conversation sets: Think of conversation sets as a smaller living room for your outdoor space. Yours might include comfy chairs, love seats, sofas, coffee tables and/or end tables. Modular sets are popular in this category since they can be rearranged according to your seating needs and space restrictions.
Consider space constraints, comfort and functionality to find the right fit for your outdoor space. Seating could include simple dining chairs or a combination of sofas, lounge chairs and stools. For tables, decide whether you need a bistro table, dining table, end table, coffee table or perhaps a few different options. For a larger space, you may want to create separate seating areas focused on conversation, relaxation and dining.
Don't forget about accessories as well. You may want a Serenity Health & Home Décor patio umbrella for added shade on sunny days, a heater for cool nights, rugs for a cozy feel or other outdoor accessories to fill out the space.
Be sure to consider these factors when shopping for outdoor furniture for your porch, patio, deck or yard. Finding the right patio furniture for your home is easy when you use this handy buyer's guide.