The typical American's day-to-day life is filled with an abundance of taxing experiences that rarely leave any room for creativity and self-expression. To balance this, we all try to establish a expressive environment in our own homes so that we are allowed to unwind from the day's events. Sometimes, designing these "creative" retreats can be difficult, but we must never give up. Making our home unique and artistic will invoke passion and a spirit for life itself. With this is mind, some areas of the home are much harder to design than others. Unique items are not always purchasable, or it might be hard to envision what we want. Fire pits are one of those products that come in so many styles and shapes, that it's hard to pinpoint exactly what would work best for us. A fire pit can also be a relatively expensive purchase, making it all the more difficult to make a decision. I''ve compiled 20 of the most creative & unique fire pits in the world today. Some can be made by hand, and others are sold by various retailers but all will inspire to get the perfect 'pit' that suits you.
1. Natural Stump Fire Pit
This cast stone piece of nature is the work of the American company Cast Creations, from Aurora, Utah. They create detailed cast stone renditions of objects such as wood barrels and stumps. The company then transforms these concrete products into gas fire pits, fountains and garden decor.
2. DIY Washer Drum Fire Pit
For the DIYer, this project could be an easy way to upcycle an old washer that has been taking up valuable space in the basement. We all know someone who has an outdated washer that they don't know what to do with. Now you do. This step-by-step guide will show you how to go about making one of these pieces yourself.
3. Pirate Ship Fire Pit
Here is the infamous pirate ship fire pit that surfaced on the internet a couple years ago. There is no known origin for this great metal work, but maybe it will inspire you to get the welder out and try something like this yourself. Have fun!
4. Gas Fire Table
Fire tables are a multi-functional piece of patio furniture that combine the functionality of an elegant looking table, with the ambiance of a gas fire pit. Fire tables are great for parties and guests because they allow for a place to set drinks while enjoying the dancing flames. You can check out a full line of fire pit tables here.
5. Decahedron Fire Pit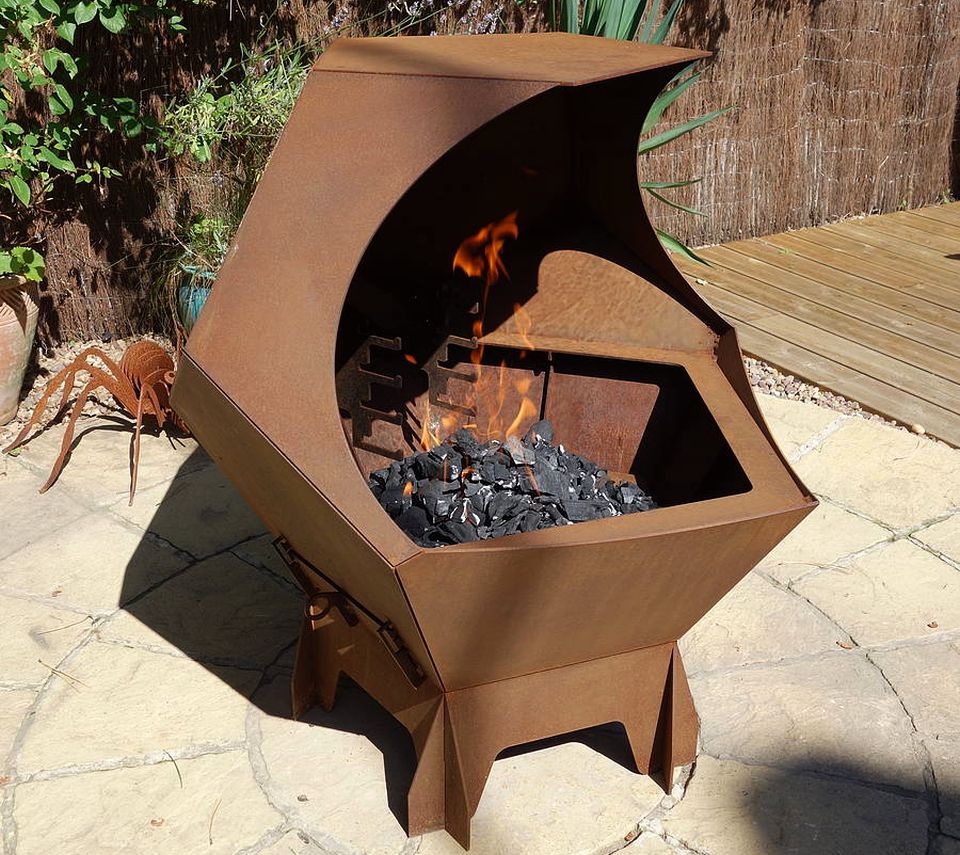 This geometric metal fire pit was hand crafted in the UK by DigbyScottDesigns and sold on Etsy for about $750. Unfortunately, it is no longer offered online in the US, but I believe you could get a hold of DigbyScottDesigns and find out where you could get one through another distribution channel. The design of the fire pit is definitely intriguing.
6. Collegiate Fire Pit
Go Badgers! Each of these custom fire pits are designed for us, the college alums, to show pride in our school and history. Patina Products offer a 5 year warranty on these steel fire pits so you can enjoy the beautiful rust-like patina without worry of holes developing. Check them out!
7. California Beach Fire Pit
Although these are very popular on the Pacific beaches of California, we Mid-westerners are not even allowed to start a fire on our beaches. Unfortunately, these awesome beach party accessories are in danger of being removed due to some new laws in debate.
8. Homemade Fire Pit
For less than $50, we can create a fire pit from materials found at our local Lowe's or Home Depot. The example shown here is made with 10 concrete tree ring sections, some stones, and a small Weber grill. Instructions for this homemade fire pit can be found on Instructables.
9. Clay fire Pit
Number 9 appears to be made from clay, but in fact it's constructed of a proprietary material called FirEx. FirEx gives the detailed look of terracotta, but with added durability. Blue Rooster is the exclusive distributor of this clay pit style. They are also one of the biggest chiminea manufacturers in the United States.
10. Third Rock Fire Sculpture
Albeit the vision of the entire world on fire is somewhat morbid, it can also be a unique center to your yard decor. These fire bowls are hand made to order by an artist in Tennessee who also fabricates a variety of other designs. See more details about it here.
11. Blue Stone Fire Pit
Amazing how someone can start with a couple of pallets of blue stone and turn it in to this. After 72 hours of work, Mark Jurus had completed an everlasting Christmas present for his mother. This video shows the artist''s steps in building this 7.5ft wide behemoth fire pit.
12. Dragon Fire Pit
It took some serious metal working to fabricate this one, but it was well worth it. Good idea if you have a bunch of junk metal lying around and know how to use an arc welder. I might consider doing this with a Phoenix.
13. Backyard Fire Pit Ring
This fire pit ring is perfect for outdoor adventures, camping, or just long nights outside in the backyard. It helps you create a DIY firepit in just a few simple steps!
14. Great Bowl O Fire
The amazing metal work of John T Unger and the resilient materials used, make these fire bowls a completely functional work of art. John hand-cuts each bowl to ensure quality in each piece he creates. See all of John's work here.
15. Moss Rock Fire Pit
Sometimes outdoor decor clashes with the natural exterior elements. For instance, a large fire bowl might seem out of place in the Minnesota Northwoods but perfect for the suburbs of Illinois. When decorating, you must work with the space to create harmony. The natural stone pictured (left) has been carved out to create a one of a kind fire pit. The work was done by The Rock Place in Elkhorn, Nebraska but I suspect anyone with a concrete saw and a large boulder could replicate the design.
16. Fire on Water Fountain
Who doesn''t dream of combining the two most dramatic elements of nature? Water and fire unite in this creation by Fireside Expressions. They make custom water fountain/fire pits. You could choose to create your own if you use an underwater gas manifold.
17. Bonfire Pit
This HUGE bonfire pit allows for homeowners with even the smallest of yards to enjoy a large fire with friends without worrying about fire spread or a messy cleanup. Unfortunately, this bonfire pit is only sold in Australia by Potanico, a major supplier of outdoor decor in the Australian market.
18. Artistic Fire Pit
Melissa Crisp creates these metal works right in the garage of her Ohio home. She creates masterpieces that are much more detailed than most while keeping the costs low. Notice the cracked liberty bell. Melissa''s designs can be found all over the United States.
19. Electronic Radiator
Because of its innovative nature, this next one has been featured on Apartment Therapy and Gizmodo. The Nobo Electric Radiator by CLDesigns definitely ups-the-ante in modern decor and fire. When turned on, the glass "logs" glisten and dance with light as if actually on fire. The unit even produces heat as a real fire pit would, hence the term radiator. This unit is currently priced at $2800.
20. Deathstar Fire Pit
Finally number 20, the Deathstar Fire Pit. Yes, I know it's a photo shopped image, but I love it just the same. **Update** Someone is actually selling this now!